Family Promise is grateful to our guest families who are willing to share their stories openly, and we are equally respectful of those who wish to remain anonymous.
The Hearts of Many
Tiffany Stocker had an excellent job and had earned not only a bachelor's degree but a master's degree as well when she was laid off and found herself homeless.  
She and her daughter came into the program and were quickly back on their feet again. 
Tiffany's story captured the hearts of many, including Craig Melvin of the Today Show, who highlighted Tiffany's plight in a video on Family Promise of the Midlands.  Click here to watch and learn more about Tiffany's story.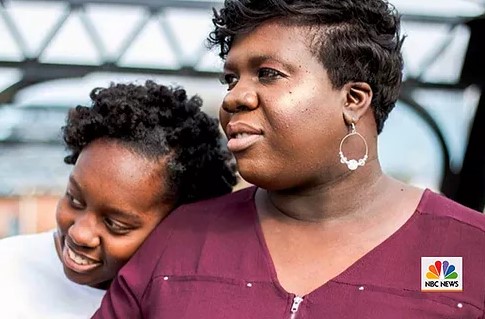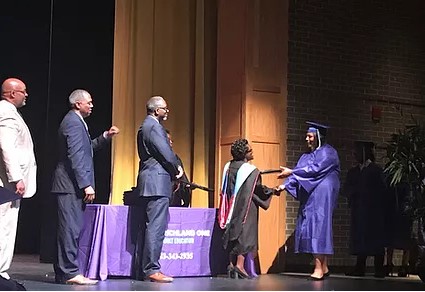 Celebrate our families' continued steps
At Family Promise of the Midlands, we celebrate our families' continued steps toward financial stability. This mom completed her GED testing and walked for her diploma last year, and host coordinators, staff, and family were there for her graduation day.
Host Coordinators Martie Walker and Ann Smoak offered GED training through the Richland One education program, and this mom passed the GED test with flying colors. 
She is now continuing her education at Midlands Technical College where she is studying to be a phlebotomist, thanks to grant funding from Aflac and housed at Central Carolina Community foundation.
Sustained Independence
When our guests graduate, Family Promise of the Midlands offers a year of aftercare to ensure that our families continue to thrive and have the support for sustained independence.
One of our graduates, Ja'Qwann, now lives with her sons in transitional housing while she pursues a nursing degree. She currently enjoys working with patients as a full-time medical assistant. In the evenings, she takes registered nursing classes at Midlands Technical college and will complete this course work in the next year.
Thanks to the project supported by a grant from Aflac, housed at Central Carolina Community foundation, we were able to pay for classes towards this degree. We celebrate the ways that Ja'Qwann's hard work is moving her toward a better future for her family.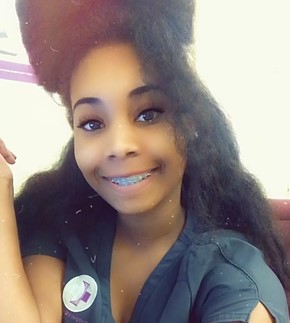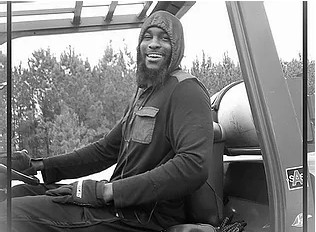 Opened Doors
During 2019, six of our guests completed their forklift training and certification. This certificate has opened doors to higher-paying, full-time employment with benefits.
This  training project was supported by a grant from Aflac, housed at Central Carolina Community foundation.
Thank you, Aflac and Central Carolina Community foundation for opening doors and changing lives for our guests and their families.  
Break the Cycle
Like many families coming into our program, Casey came with a job. In fact, she came with two jobs. She owned a small business and had seasonal work with a tax company. Unfortunately, these jobs did not provide for her family. During her time with Family Promise, she took classes at Midlands Tech, thanks to a grant from Aflac, housed at Central Carolina Community Foundation.
She completed an office administrative specialist degree, which gave her tools to better manage her landscaping company as well as training and skills to help with her tax job. She is currently completing an accounting and payroll specialist degree that could lead to full-time work in the tax service field.
Family Promise is committed to helping guests break the cycle of poverty by providing educational opportunities that lead to higher-paying jobs. Today Casey is living in interim housing where she can continue to build up her savings while she meets her long-term goals.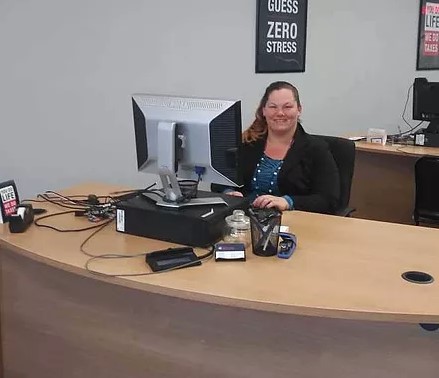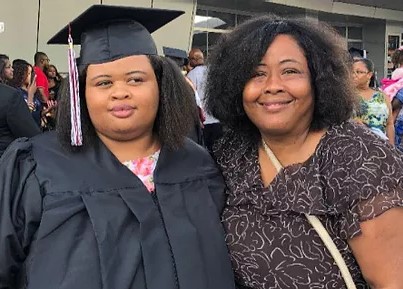 Back on their Feet
After a house fire, Regina, Winston, and their three children came to Family Promise for help. This family of five was welcomed by our host and support congregations, who provided them with a safe, comfortable place to live and fed them well while Regina and Winston found a way forward.
Before long, they were back on their feet. They moved to Alabama to be near relatives who offered support. Our affiliate helped them with beds for their new home.
Today, their sons, affectionately known as "Tigie" and "Bear," are doing well, and their big sister, Nasha, is now a pre-med student at Marymount University in California.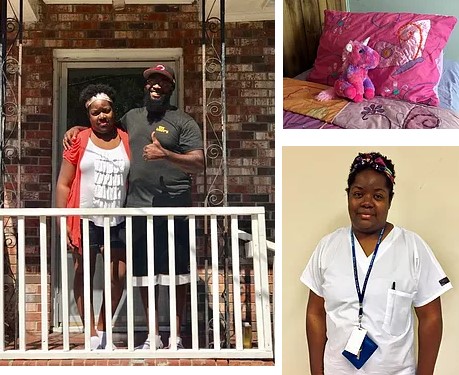 Providing Stability
Michael, Cristina, and their children came into our program after a job loss put the family into a downward spiral. Micheal had been able to find part-time work, but his income was not enough to cover their bills. They came to Family Promise hoping to build a new future for their two children.
Our program provided them the stability they needed to get back on their feet. Soon after they came to Family Promise, Michael received his forklift license; he is working full-time as a chef while pursuing a career using his new certification. With the help of an Aflac Grant, Cristina began a phlebotomist's certification program at Midlands Tech. Having recently completed her degree, Cristina is excited about her new career and is actively looking for work in this field.
While in Family Promise of the Midlands, they saved enough money to qualify for a donated vehicle. They now live in their new home, where the children are happy to have their own room.
Cheerful Giver
In August 2019,  we celebrated an exciting and unexpected donation from an anonymous Cheerful Giver.  Along with dozens of other local nonprofits, Family Promise was surprised when Central Carolina Community Foundation president and CEO JoAnn Turnquist handed executive director Karen Newsome a check for $10,000. 
Now it's time for the "rest of the story." Family Promise of the Midlands has been humbled by the difference this gift has made, and we want to share that story with you. Click here to read about the projects that the Cheerful Giver made possible.
You can also read more about the generous Cheerful Giver here.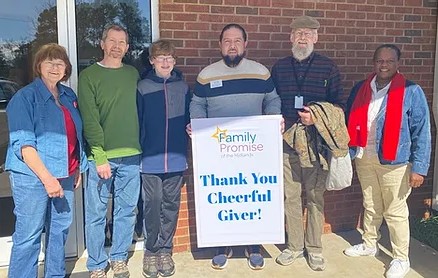 Get in Touch. Get Involved.
Have a question? Want to volunteer? Ready to donate? Give us a call, or leave us a message below. We'd love to hear from you!
1333 Omarest Dr, Columbia, SC 29210